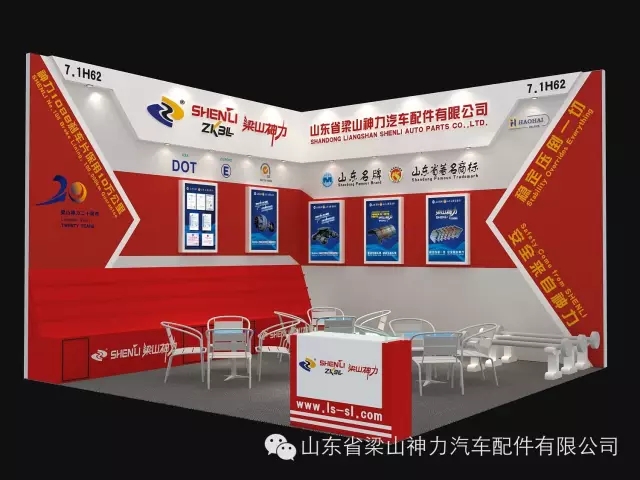 The 2015 Shanghai Frankfurt International Auto Parts Exhibition will be held at the Shanghai National Convention and Exhibition Center from December 2nd to 6th.
At that time, Shandong Liangshan Shenli Auto Parts Co., Ltd. will exhibit at booth 7.1H62. The exhibition has brake pads, brake shoes, brake shoe assembly and axle product display, sales and technical staff to discuss with you, to answer your product knowledge. I hope that all friends will visit the booth to guide.
Company Profile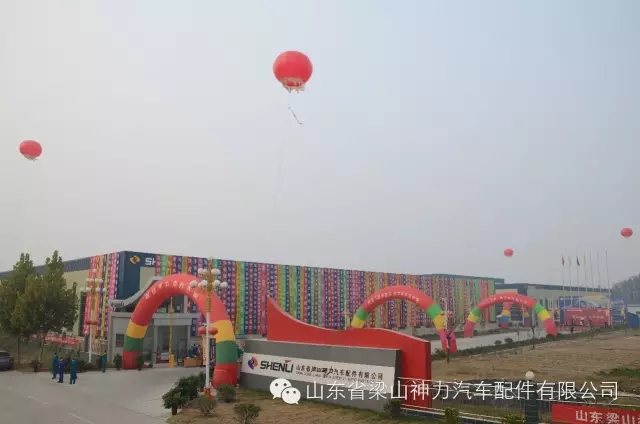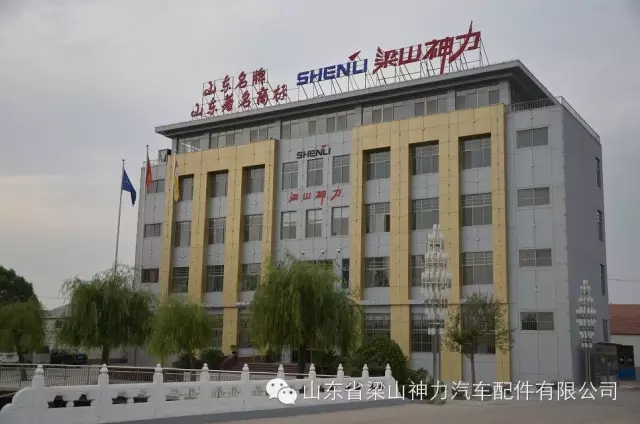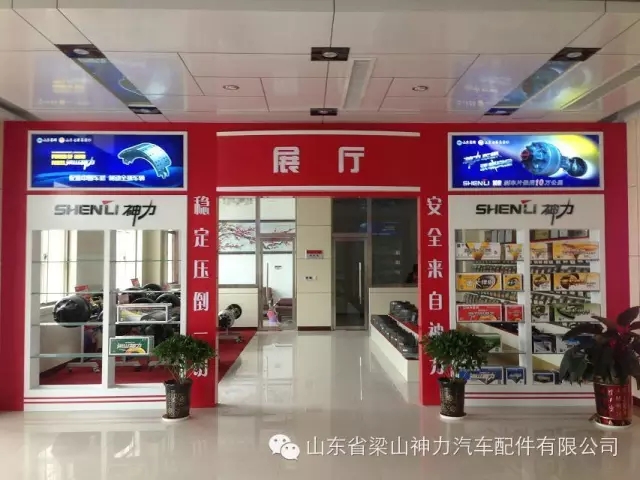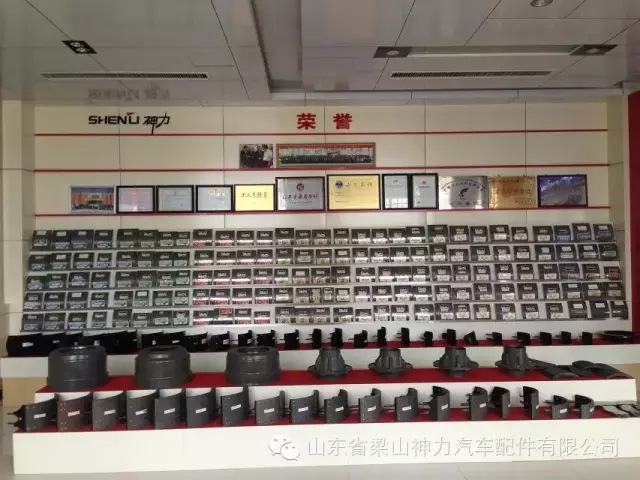 product description

First, the brake pads

First-class research team, advanced production testing equipment, formula technology of different materials, Shenli can meet various requirements of different road conditions, different models and different markets. The company's seventh-generation SHENLI No. 2, No. 4, No. 5, No. 6, No. 8, Shenli 108 series drum brake linings (brake pads) and Shenli No. 9 large-disc brake linings, including asbestos. Semi-metal, non-asbestos, aramid, ceramic base type, complete specifications and models, advanced production technology, using micro-computer ingredients, automatic thermoforming, CNC machine tool processing, water washing coating, energy saving, beautiful appearance, stable braking, high temperature performance Good, no noise, low wear and long service life, it is sold well all over the country and exported to more than 20 countries and regions, and is trusted by customers.
In recent years, we research anddevelopment many kinds of brake lining , including NO.2, NO.4, NO.5,.NO.6,NO.7, NO.8, NO.9 and NO.108, the material including no-asbestos, semi-metal andceramic. Complete specifications and models ;Advanced production technology,microcomputer control, automatic hot pressing molding, with beautifulappearance, smooth braking, high temperature performance is good, no noise,wear small, long life, best-selling throughout the country, and exported tomore than 20 countries and regions, trusted by customers. yearly capacity,brake lining more than 10000T . mainly production equipment: Winnowing grinder, vertical high-speed mixer, four-columnhydraulic press, electric oven, porous automatic drilling machine, single,double hole drill, drill, wear line three machines, arc within the outer arcgrinding machine, chamfering machine, grinding machine, combination of trimmingchamfering machine, grinding machine, blowing production line, automaticsealing machine, automatic printing machine, golden hot printing machine,washing and remove dust equipment.
Brake pad production workshop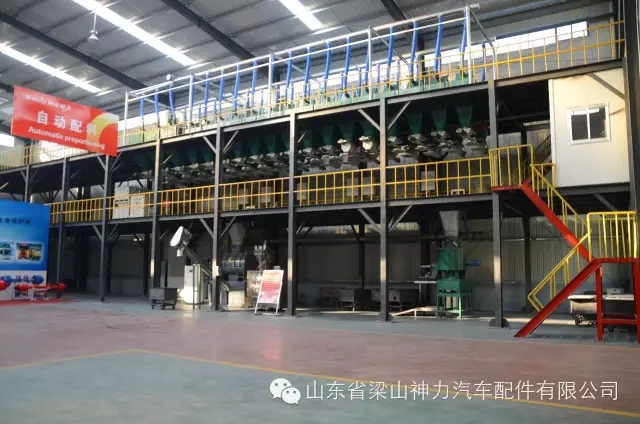 Automatic mixing system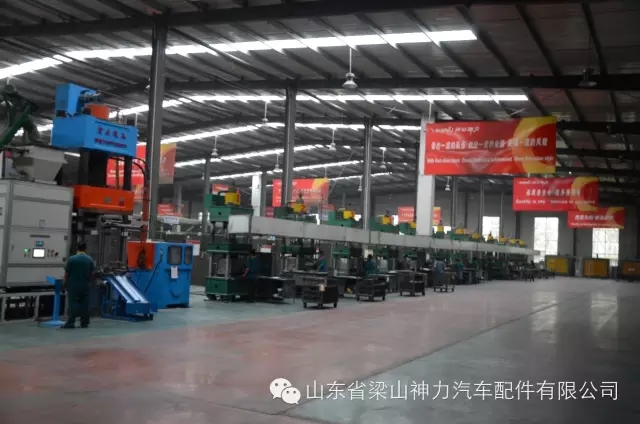 Press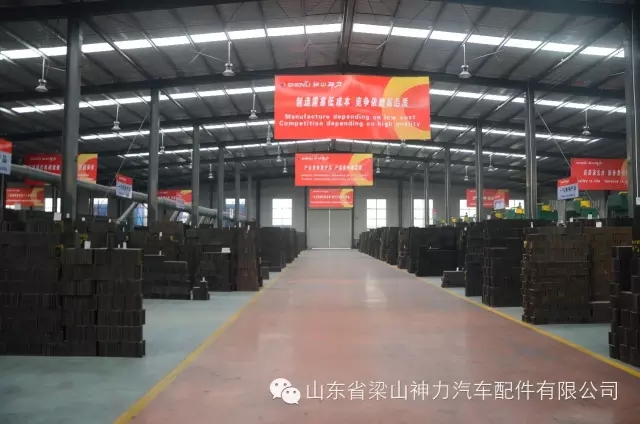 Semi-finished products warehouse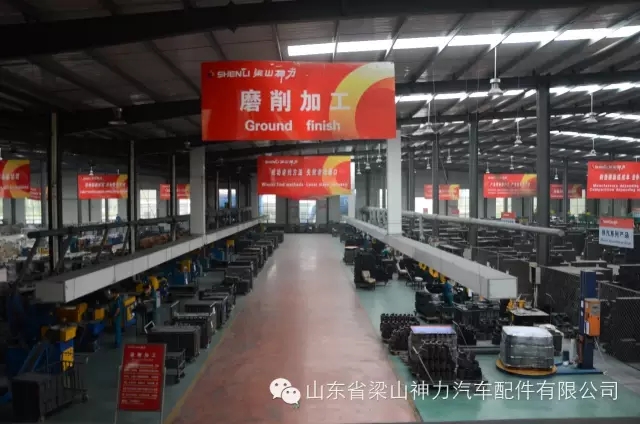 Machine shop
Second, brake shoes

In 2008, the new brake shoe (brake shoe assembly) production line for automobiles was made of high-quality steel plates. The products were produced by stamping, automatic welding, CNC milling, shot blasting, electrophoretic painting, high quality, and domestic production. First class. Annual production capacity: 1.5 million. The main production equipment: hydraulic shearing shearing machine, semi-closed single point press, open fixed table press, brake shoe direct fillet welding machine, brake shoe automatic plug welding machine, four-column hydraulic press, CNC milling machine, shot blasting Descaling machine, shoe iron electrophoresis coating line, pneumatic marking machine, semi-automatic rivet machine, multi-function hydraulic shoe riveting machine, shoe assembly grinding machine, heavy-duty vehicle outer arc grinding machine, double-cycle heat shrink packaging machine, etc.
the brake shoe production line was buildon 2008, quality steel as material, Product is made of stamping forming,automatic welding, CNC milling, shot blasting derusting, electrophoresispainting, national excellent quality, first-class production process. Yearlycapacity: 300000 pcs. Mainly production equipment: Hydraulic scissor plateshears, half closed single point press, open press with fixed bed, the brakeshoe direct Angle welding machine, automatic brake shoe plug welding machine,automatic brake shoe horn welding machine, four-column hydraulic press, CNCmilling machine, shot blasting cleaning machine, shoe electrophoresis paintingline, pneumatic marking machine, semi-automatic riveting machine,multi-function hydraulic shoe for riveting machine, grinding machine, shoe assemblyheavy vehicle outer arc grinding machine, dual cycle heat shrinkable packagingmachine.
Brake shoe workshop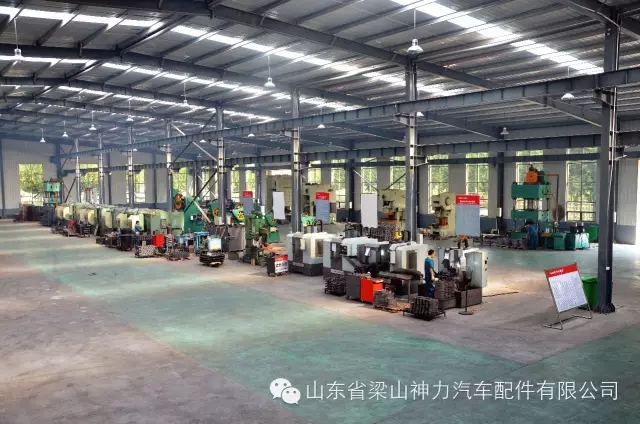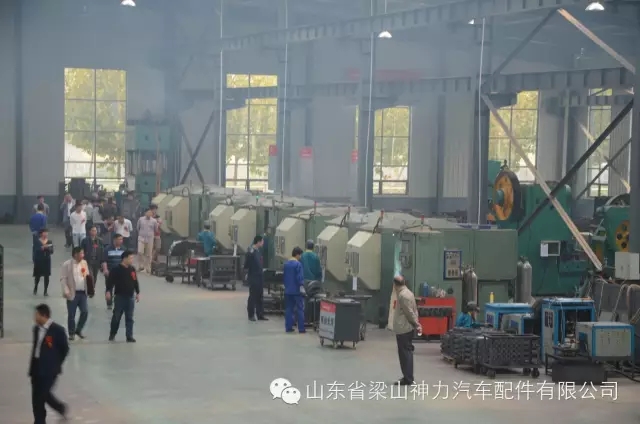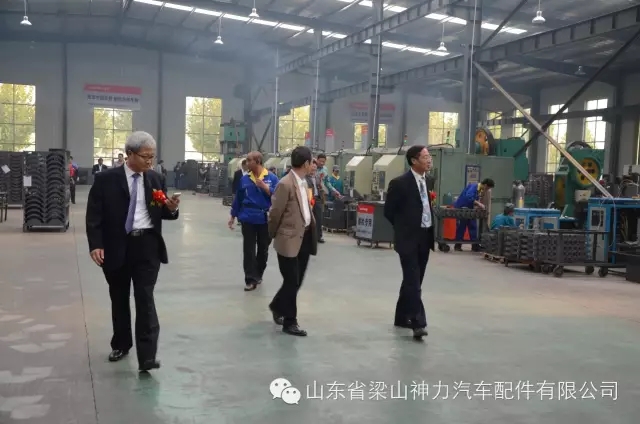 Third, the axle

In May 2011, a new assembly line for trailer axle production was used. The special axle steel, rotary forming, high-frequency quenching, CNC machining, robot welding and automatic assembly were selected. It is the most advanced axle production line in China. Annual production capacity: 300,000.
the trailer axle production line was buildon May 2011, choose the special steel ,Rotary rolling forming, high frequency quenching, numerical control machine,robot welding, belongs to the most advanced domestic axle production line.Yearly capacity:300000 sets.
Axle workshop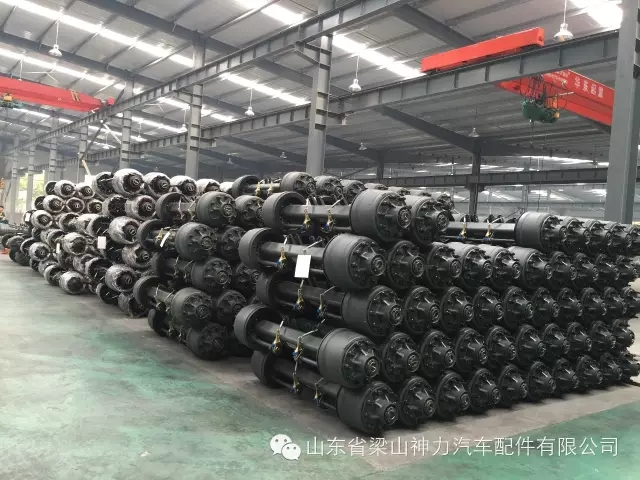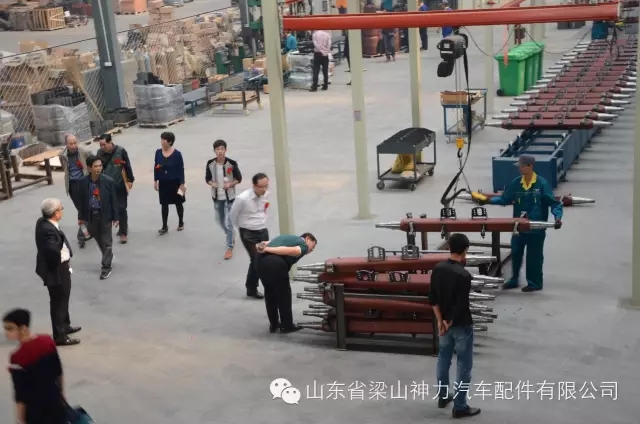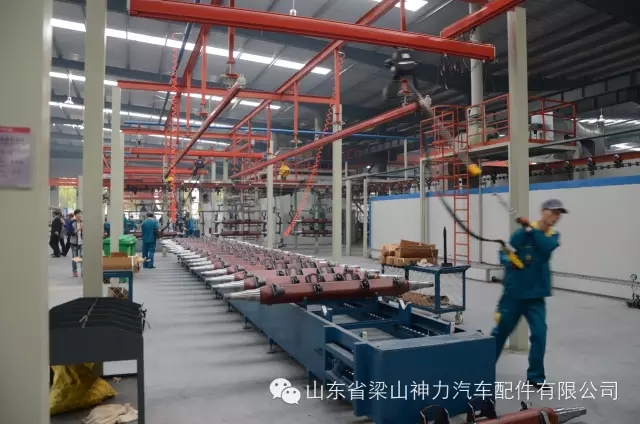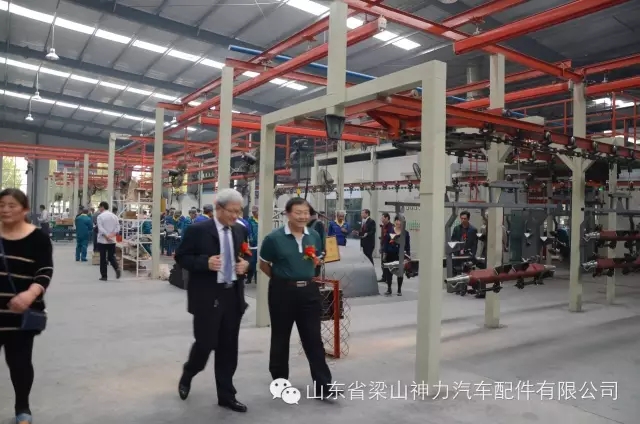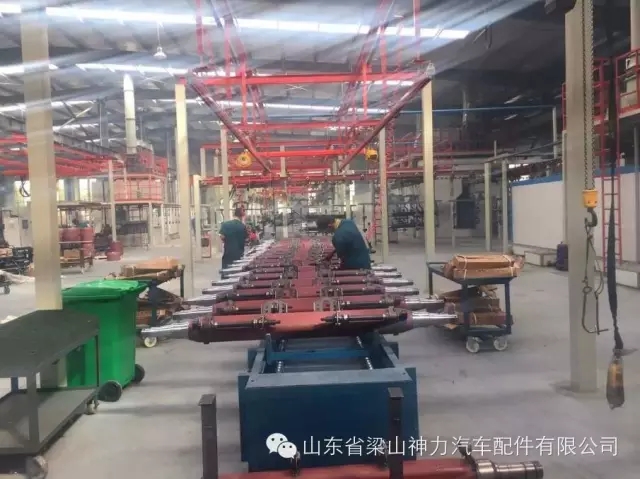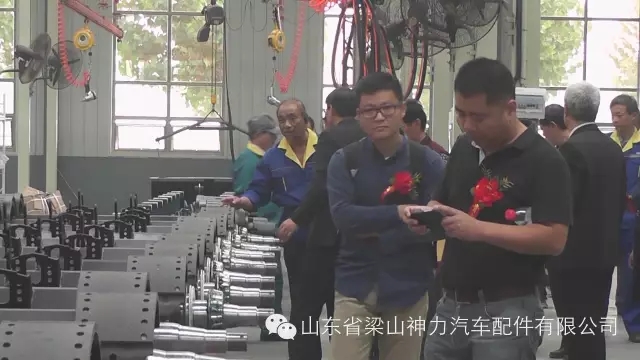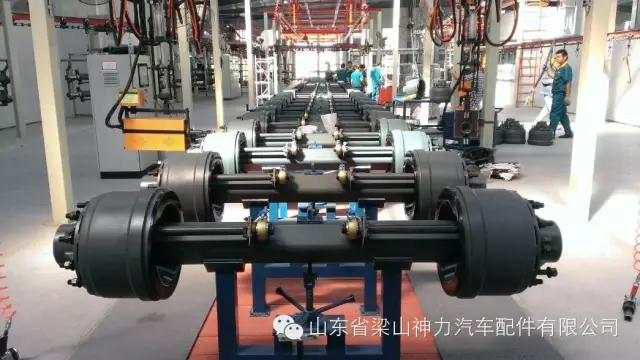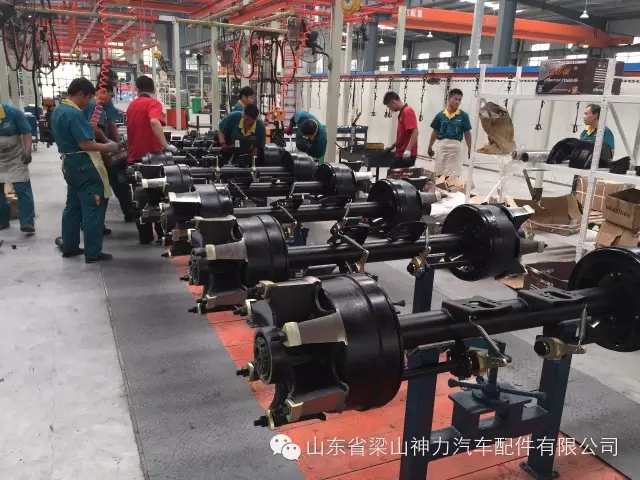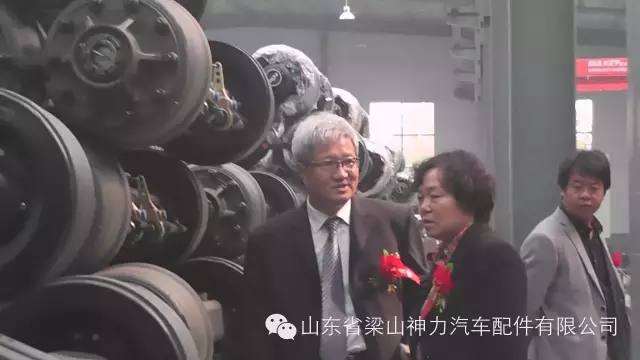 The company has always adhered to the principle of "Technology Leading, Quality Service, Continuous Improvement, and Market Development". With the tenet of "Quality First, Customer Service", the company constantly develops new products, takes customers' needs as the development direction, and takes quality products and good products. Service returns to our customers. We are well aware of the principle of "win-win cooperation and profit-seeking world". For this reason, we carefully selected 11 excellent suppliers, 10 gold customers and 10 outstanding employees at the company celebration on the 20th anniversary of October 18. Hope to bring new and old customers side by side to create new glory in the next 20 years.
Shenli people receive the award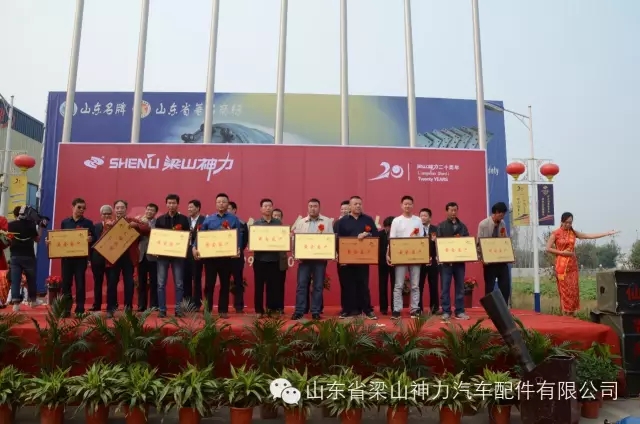 Supplier receives the award